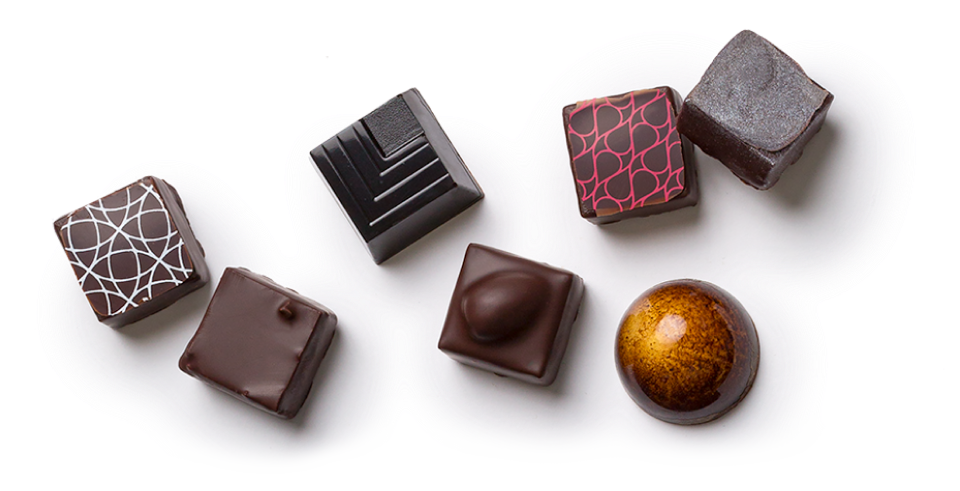 A Classic Box of Chocolates
Feve Artisan Chocolatiers has been one of our longest-standing partners, stretching back to when Todd and Cam first visited their kitchen in 2012. Their talent is legendary–we've even had friends who have honed their truffle-making talent in their kitchen–and this collection is no exception. This collection includes some of our favorite flavors from Feve enrobed in our 70% single-origin dark chocolate.

Inside you'll find three bonbons in each flavor, including:
Coconut Gianduja
Pistachio Rosemary Caramel
Cherry Vanilla
Hazelnut Noir
Peanut Butter Crunch
Cardamom Almond
Exotic Passionfruit
21 pieces
Ingredients & allergens

70% Dandelion Chocolate (cocoa beans from Camino Verde, Ecuador, organic cane sugar), heavy cream, hazelnut praline (hazelnuts, sugar, hazelnut oil), sugar, milk chocolate (sugar, cocoa butter, cacao kernel, partially skimmed milk powder, whole milk powder, soy lecithin, vanilla), peanut butter, butter, feuilletine (wheat flour, sugar, butterfat, milk, milk protein concentrate, salt, malt extract, sodium bicarbonate), pistachio paste (almonds, pistachios, sugar, hazelnut oil, soy lecithin, chlorophyll (for coloring), natural flavor, vanilla extract), white chocolate (cocoa butter, whole milk powder, sugar, soya lecithin, natural vanilla extract), invert sugar, passion fruit purée, cherry purée, almonds, cocoa butter, glucose syrup, dried coconut, rosemary, coconut oil, lime juice, vanilla paste, cardamom, salt, pectin

Contains: coconut, milk, peanuts, tree nuts, wheat

Weight

8 oz (230 g)

Learn more

Learn more about our cocoa beans and sugar – the region, the farms, and the producers.

Hidden
A Classic Box of Chocolates
favorite Feve bonbons enrobed in our chocolate
An Essential Sampling of Classic Flavors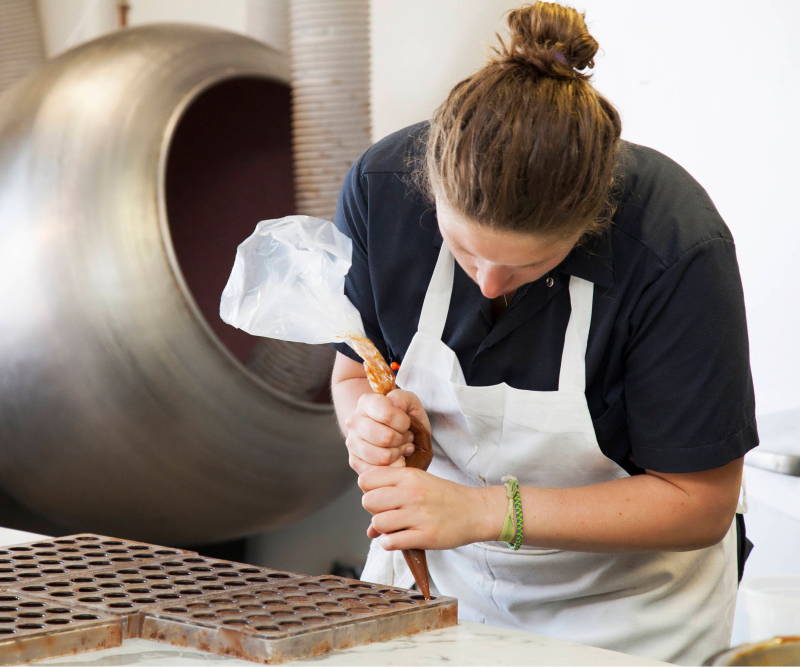 About Feve Artisan
Chocolatier
San Francisco-based Feve Chocolates has been our friend and collaborator since 2012, back when we opened our factory doors on Valencia Street. Their chocolate-covered almonds were our first collaboration and an immediate hit, kicking off a beloved tradition of partnering with local chocolatiers who use our single-origin chocolate to make mouth-watering treats, pastries, and confections.

With a shared commitment to ethical sourcing, and to using the best ingredients, Feve works with us to craft all of our chocolate-covered nuts, nibs, espresso beans, and sea-salt caramels, transforming single-origin chocolate into exquisite, boldly flavored confections.

Chocolate Makers & Chocolatiers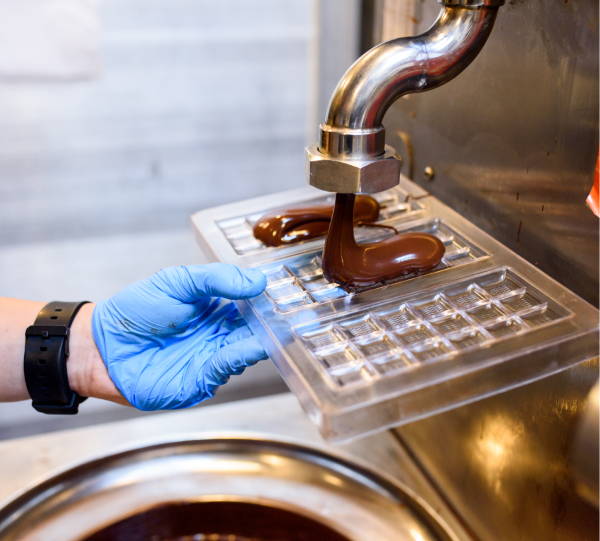 While chocolate makers make chocolate from the bean, chocolatiers use finished chocolate to create truffles, bon-bons, candy, and confections.

Many of the San Francisco Bay Area chocolatiers included in this collection have collaborated with us since our earliest days, back when we were at farmer's markets in Noe Valley and the Mission. When we first started, we turned to this community for advice about establishing a chocolate business in San Francisco. We've shared each other's workspaces, taste-tested recipes, traded equipment tips, and commiserated over the city's crazy permitting processes. It's an exciting time for San Francisco's chocolate community and it wouldn't be nearly as special without this collaboration between chocolate makers and chocolatiers.

Since we don't add emulsifiers or additional cocoa butter, our chocolate is more challenging to work with. As a result, making chocolate-covered nibs or truffles can be especially challenging. Still, our collaborators remain undaunted, inventing new recipes and products each year. We celebrate their talents and we are thrilled to share their crafted treats with you.