Toasted Sesame Halva

in



Chocolate-Covered Bites
a collaboration with NYC's Seed + Mill
Halva Bonbons
Meaning "sweet" in Arabic, halva is a traditional confection popular in the Mediterranean, the Middle East, and southeast Asia. Known for its tender, grainy-flaky texture, halva is usually served in slices carved from a block, and is prepared in different ways worldwide (tahini being a common component). When we tried New York-based Seed + Mill's pure, minimal-ingredient Toasted Sesame Halva, we thought of pairing it with our 70% chocolate in bite-sized bonbon form. Rachel Simons, co-founder of Seed + Mill, was eager to collaborate, and we began nearly a year of kitchen experimentation, resulting in a bonbon that spotlights sesame halva's earthiness and texture, complemented by two of our bean-to-bar chocolates.
To create this seven-piece bonbon set, we cut Seed + Mill halva into squares; layer them over creamy, mellow 70% Tumaco, Colombia chocolate-cardamom ganache; then enrobe the cubes in our classically chocolatey 70% House Blend chocolate. Each bite progresses through smooth, flaky, and sweet: Sesame melts in the mouth, and cardamom notes in the velvety ganache unite nutty and chocolatey flavors.
Ingredients & Allergens

Ingredients: Dandelion 70% House Blend chocolate (cocoa beans, organic cane sugar), halva (sesame paste, sugar, glucose, saponaria extract), Dandelion 70% chocolate (cocoa beans from Tumaco, Colombia, organic cane sugar), cocoa butter, heavy whipping cream, glucose syrup, cardamom, sea salt, edible gold leaf

Contains: milk, sesame seeds

Crafted in a facility that also processes wheat, soy, peanuts, and tree nuts (hazelnuts, coconuts, pistachios, walnuts, pecans, almonds).

Weight

6.8 oz (192.7 g)

Learn More

Learn more about our cocoa beans and sugar — the region, the farms, and the producers.
SEED + MILL IN NEW YORK, NY

Halva Bonbons
sesame halva, cardamom ganache: a collaboration with NYC's Seed + Mill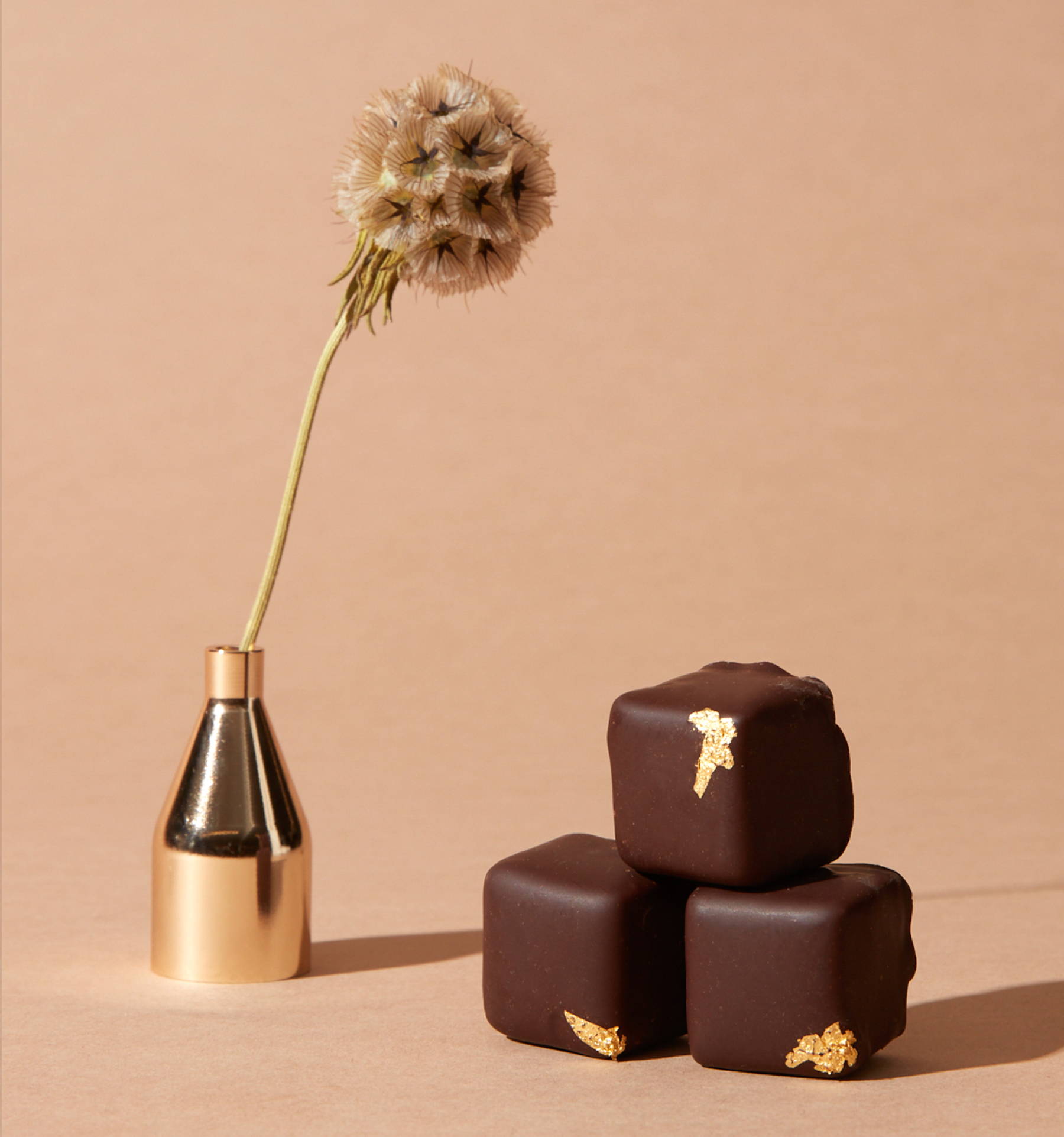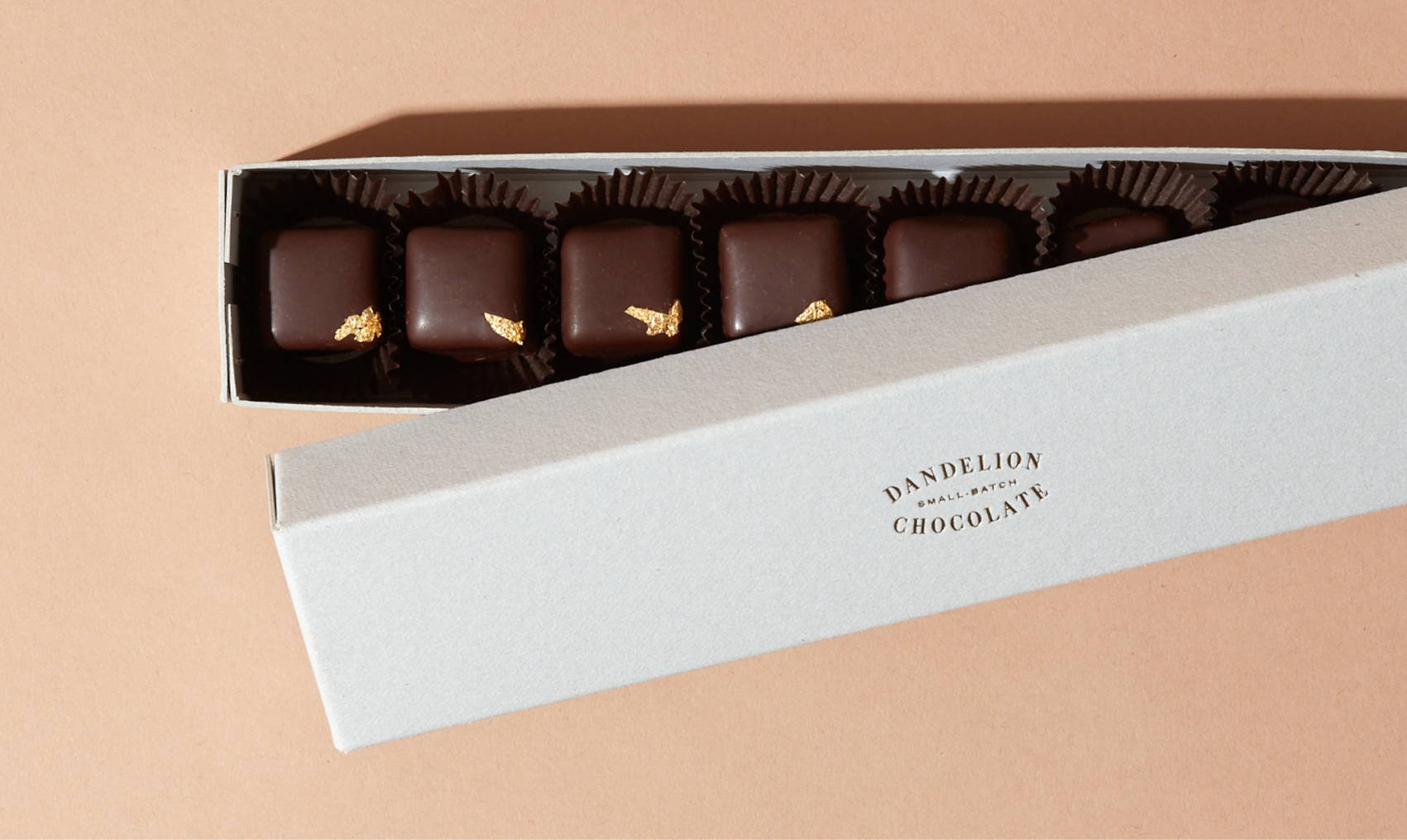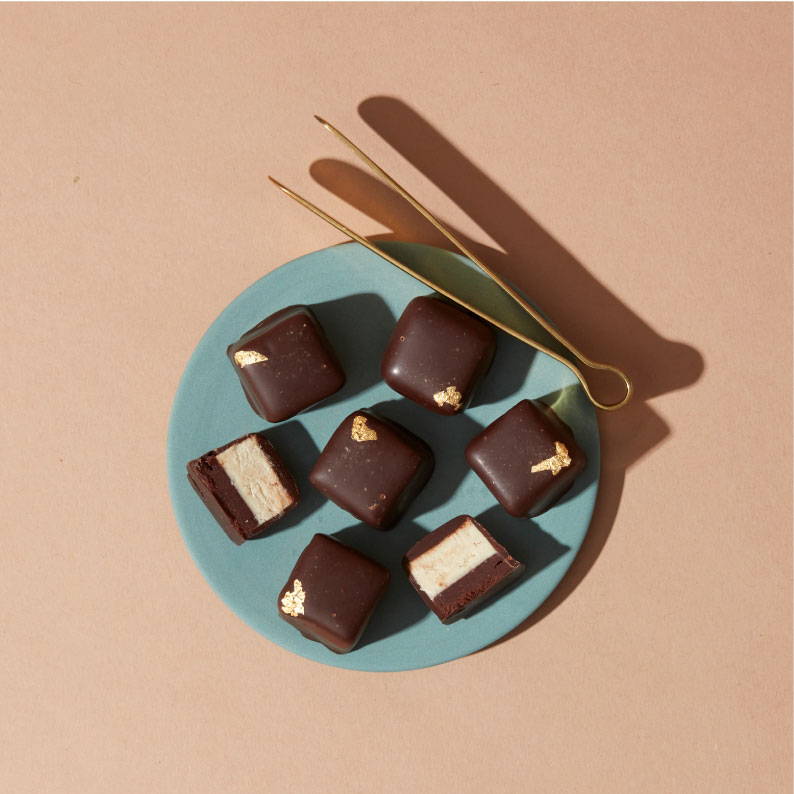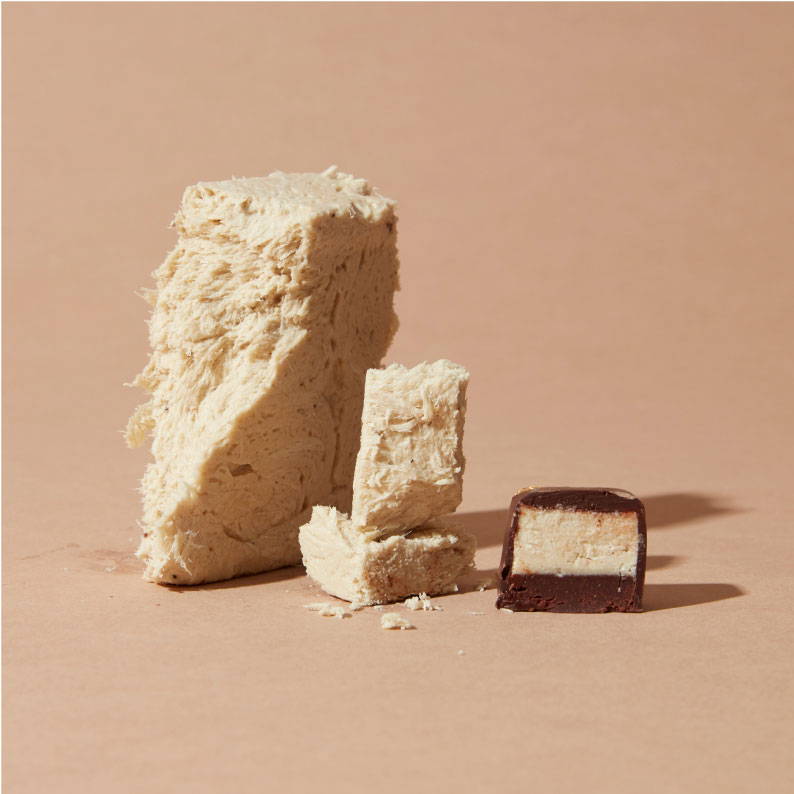 Seed + Mill is all about sesame. Founded upon values of connection, global flavors, and joy, they source premium, oil-rich seeds from Humera, Ethiopia, to make creamy tahini and delicate, flaky halva. Founders Lisa, Rachel, and Monica grew up in three different countries: Lisa in Israel, Rachel in Australia, and Monica in the United States. Their paths crossed in 2015 in New York City, where they discovered shared passions for food, cooking, and nourishing their families with healthy, high-quality ingredients.

Determined to show Americans how versatile and delicious tahini and halva could be, they opened a small kiosk in New York's bustling Chelsea Market in 2016, and became the first store in the U.S. dedicated to sesame products. They've welcomed locals and tourists from all around the world, connecting people over nostalgic tastes, and introducing new audiences to traditional foods rooted in centuries of culture and history.
What Is Halva?
---
Halva (or "halvah") is a sweet, flaky treat traditionally enjoyed in many parts of the world, including the Middle East and parts of Africa, Asia, the Balkans, and Eastern Europe. It's typically made of some form of flour or ground seeds sweetened with sugar or honey; and remains fresh at room temperature even for long periods. For Seed + Mill, their delicious halva represents sharing, connecting, and celebrating over the nourishing, sesame-based foods common to all three founders' heritages.