Every bar we make is crafted of flavorful,
well-fermented cocoa beans sourced from a producer or set of producers in a specific location
— a single "origin."
Every bar we make is crafted of flavorful, well-fermented cocoa beans sourced from a producer or set of producers in a specific location — a single "origin."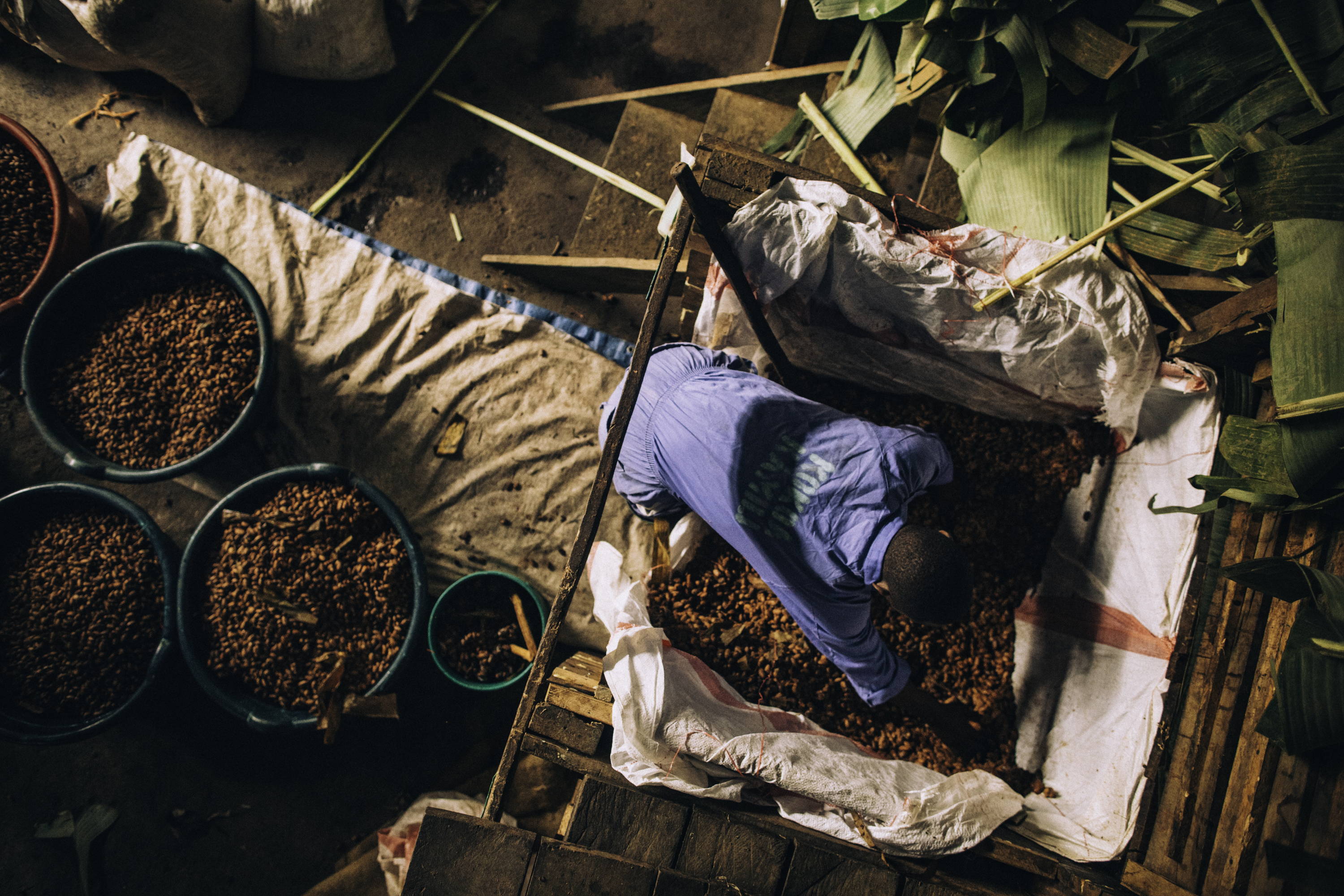 Here at Dandelion, we not only want to work with producers who make good beans (which is hard enough on its own) but also people who share similar values around transparency, accountability, and are looking to maintain long term partnerships. We do our best to live up to the trust they put in us to represent them well not only in the chocolate we make from their beans but ensuring people know where these amazing beans have come from.
We visit our producers as often as possible to maintain our relationships and stay up to date on their operations. Our prices are not determined based on the commodity market but what the producers with whom we work believe is the appropriate price for their product. Often this ends up being several times the market price.
We are excited to work with our partners, and hope they are excited to work with us. Our relationships with our producers are the foundation of our sourcing philosophy, and are based on trust, communication, and reliability. They are people who care about cacao as much as we do. Sometimes we'll collaborate with farmers or producers before they have beans we would buy, working together to improve their cocoa quality and help them expand their own market so we can grow together.
With only two ingredients in our chocolate, we can't hide behind added flavors. The beans must speak for themselves, and each bar is able to stand on its own with a distinct flavor and character. Every time we get a new set of beans, we spend weeks tinkering with different flavor profiles on our machinery to land on the approach we believe creates the best representation of those beans.
Consistency and Reliability
We are in it for the long haul with all of our producer partners and hope to work with them for decades to come. While we expect the beans we buy to differ slightly from year to year, each origin has its own immutable character that made it interesting to work with in the first place. We hope to buy beans from our producers consistently, and to be a reliable partner and buyer to them.
Brian LoBue and Simran Bindra of Kokoa Kamili have grown a successful cacao business in the remote Kilombero region of Tanzania, learning from others in the industry and looking to improve things for everyone in the value chain. Kokoa Kamili works with over 4,000 farmers in Tanzania, buying wet beans then fermenting and drying them in a centralized facility. By consistently controlling and improving quality in this way, they produce an outstanding cocoa bean, are able to garner a premium price, and are one of the larger suppliers of specialty cocoa to the craft chocolate market.
We have been working with Kokoa Kamili since 2014 and since then, it has been inspiring to see their growth: from shipping their first container to supplying chocolate makers around the world. Learn more about Kokoa Kamili.
The first full container of beans that Dandelion Chocolate purchased came from Bertil Akesson's Bejofo Estate in Ambanja, Madagascar. The Estate has been growing cacao since 1920 and we bought our first container of these beans in 2012.
We've been buying consistently ever since and for the first time in 2017, we finally purchased two containers (around 25 tonnes) from his estate. We are proud to work with Bertil both because we love his beans and because we believe that he has paved the way for much of the development of specialty cacao that has happened in the last few years.
In 2017, Dandelion Chocolate made our first bar with beans from Asia. The beans came from Tamil Nadu, one of the two southernmost states in India, which is an area known more for tigers than cacao. But the story behind these beans is one of hard work, a focus on sustainability, and a holistic approach. This cocoa is produced by brothers-in-law Harish Manoj Kumar and Karthikeyan (Karthi) Palanisamy. Harish is originally from Pollachi (near Regal Plantations) and for many years his family has run multiple farms around Pollachi with a focus on coconut, cacao, and nutmeg (with a variety of tree crops intercropped including papaya, pepper, and coconut).While Harish and his family have been farming cacao for years, it was relatively low quality and the prices were equally low. In 2014, Harish took over the family farms and decided to work with Karthi on improving the quality and the flavor of the cacao being grown between the 30-year old coconut palms. It was a risky endeavor but as you are reading about it now, the risk clearly paid off.
You might know Marou Faiseurs du Chocolat (Marou), more as a chocolate brand than a cacao supplier. We also first got to know them through their tasty chocolate and beautiful packaging. Marou started their business in 2011, just a year after Dandelion Chocolate and we've been consistently impressed by their products since. While our focus has been making two ingredient, single origin chocolate sourced from many countries, Marou has focused on making chocolate products in Vietnam made with Vietnamese ingredients. They have built relationships and provided support to a network of cacao producers throughout Vietnam and in turn produce chocolate from each small and unique origin.
In 2016 Greg and a portion of the team from Dandelion Chocolate Japan went to visit Marou to learn more about the company and the producers with whom they work. In 2018 we purchased three tonnes of beans from Marou. We finally produced chocolate from these beans in 2019-2020 and are really looking forward to bringing it back to Vietnam and sharing it with everyone that made this possible.
Since 2014, we have been purchasing beans from Cacao Verapaz S.A., a social enterprise and export group that works with primarily indigenous Maya farmers in the AltaVerapaz department of northern Guatemala, one of the poorest regions in the country. In the Cahabón region of Alta Verapaz, Cacao Verapaz works with ADIOESMAC (Asociación de Desarrollo Integral Ox' Eek Santa María Cahabón), a group of 43 farming families, offering technical support as well as training on processing techniques so that the farmers are able to sell processed beans at a higher price in comparison to selling wet beans.
COSTA ESMERALDAS, ECUADOR
Freddy Salazar, the general manager of Costa Esmeraldas, produces a fascinating and unique cacao that we make into one of our best selling bars. Located near Esmeraldas, in the Esmeraldas Province of Ecuador, Costa Esmeraldas started as a very different farm when the Salazar family purchased it over a decade ago. The aim at Costa Esmeraldas is to co-exist with their surroundings. It is extremely important to them to remain a good neighbor to their nearby communities, flora, fauna, workers, and everyone involved in or impacted by their operations. During 2017 they carefully expanded the farm based on an analysis of the cost effectiveness of new plantings and the environmental impact of expanding, and selected varieties they envision will cater to chocolate makers' future desires.
HACIENDA AZUL, COSTA RICA
We are very excited about this new origin that we started working with in 2017 as it is a textbook example of using science and attention to detail to hone a process and create a great product. Hacienda Azul is a single estate cacao farm located near Turrialba, Costa Rica run by Wilfred Zeuner and these beans are brought to us by Eric Sharvelle of Buena Nota Imports. Almost half of the estate's 216 acres are cacao planted over the last 10 years, with the most recent plantings in the shade of Mexican cedar trees. The estate is truly beautiful piece of land with a river bisecting gently sloped hills, making it perfect for cacao.
The attention to detail on the farm extends to the processing set up as well. The trees grow on sloped hills. When the pods are harvested, they are cut from the tree roll to the bottom of the hill for collection by tractor, improving efficiency and removing the labor of carrying heavy sacks of pods. The system for cracking pods has also been improved and separated into a series of steps to ensure efficiency. It begins with cracking the pods on an angle iron that has been embedded in a block of wood. Once cracked, the pods are tossed onto a mesh bed. Next, someone at the mesh bed scoops out the beans and collects them in weighed buckets ready to go into the fermentation boxes. Wilfred uses a five-tiered fermentation setup and washes the beans with water once fermentation is complete to improve consistency and help them to dry. The beans are then moved into a greenhouse-based drying facility with mobile racks small enough so that all the beans can be turned by hand. In turning beans by hand rather than using rakes they are seeing and removing any imperfect bean so that only the best beans are bagged up and sent to their customers. Each individual step in the process is done with care and attention.
Cacao Hunters is the first Colombian company that is locally sourcing and producing chocolate in Colombia. They represent the sort of partner that you hope to find as they are open to innovation and experimentation which allows them to produce the best cacao possible. Cacao Hunters are passionately working with farmers producing local cultivars in regions for which income generation has been very difficult due to recent conflict. Owners Carlos Ignacio Velasco and Mayumi Ogata (a former pastry chef) met in 2009 in Japan and have been working together since then in challenging areas of Colombia to produce high-quality cacao.
One of these regions is Tumaco, a lush region infamous for coca production and, unfortunately, the issues that accompany it. Cacao Hunters works with a variety of associations in Tumaco. Each association ferments their own cacao, using assistance and advice from Cacao Hunters. SECO (a Swiss aid Organization) and USAID helped establish post-harvest infrastructure (fermentation and drying facilities) with technical assistance from Cacao Hunters, improving cacao quality and allowing these producers to receive a premium price.
This cacao is produced organically by individual farmers and families, and then fermented and dried at a centralized facility built by Cacao Direct in 2015 to ensure consistent quality. The efforts have paid off: Cacao Direct won the Honduras Cocoa of Excellence Competition in 2016 (when it used the award's prize money to provide a new roof and windows for the local school) and 2017 (when there was no prize money, only glory!).
In this remote tropical rainforest and recognized UNESCO biosphere, the team at Cacao Direct, led by Jorge Schmidt, have been working since 2014 with approximately 200 Miskito families, providing them with technical assistance, training, information, and tools at cost for planting and maintaining their cacao trees.
We first met Jeff Steinberg in 2017 when he visited our factory on Valencia Street looking to understand more about specialty cocoa. Jeff founded Latitude Trade Company (LTC) in 2016, as a social enterprise and certified B corporation that works with Ugandan smallholder producers to bring local products to market.
Flash forward seven years, and now LTC works with over 4,500 smallholder farmers in Uganda providing training, microfinancing, and insurance, and pays a premium price for the farmers' cocoa. These beans are used by a number of makers throughout the world, including some of our favorites, such as Soma Chocolate Makers in Toronto; Fjak out of Eidfjord, Norway; and Monsoon from Tucson. LTC also provides training to farming households on everything from organic agronomy to financial literacy. Additionally, LTC set up their own bean-to-bar chocolate factory and café, which not only provides additional income, but allows immediate feedback on the flavor and quality of their beans. If you're in Kampala you should swing by!
Near the town of Bundibugyo in western Uganda, Semuliki Forest cocoa is grown by roughly 1,000 organically certified regional farmers, of whom 52 percent are women. LTC's centralized fermentation facility is located in the village of Bumate, about 4.5 kilometers southeast of Bundibugyo, at the base of the hills leading up into the mountains. Fermentation varies from five to six days, and beans are sun-dried on portable raised decks for six to seven days, and then blended to create consistent lots of delicious beans before export.
ZORZAL, DOMINICAN REPUBLIC
Charles (Chuck) Kerchner co-founded Reserva Zorzal as well as Zorzal Cacao (aka Cacaodel Bosque S.R.L) in 2012 with the hope of proving that a for-profit business could be aviable, economically sustainable driver of environmental conservation. Chuck and his co-founders (Jamie Phillips, Jesus Moreno, Jaimie Moreno, Angelica Moreno, and Sesar Rodriguez) bought a relatively undeveloped 412-hectare (or 1000-acre) piece of land in the mountains of the Duarte province. They then divided it into Reserva Zorzal (the bird sanctuary) and Zorzal Estate (the farm) to protect a critical habitat while simultaneously growing high-quality cacao. While Zorzal Cacao processes and sells cacao grown on this Estate under the name "Zorzal Estate", the company also buys freshly harvested beans from around neighboring farms, ferments them, and sells them under the title"Zorzal Comunitario."
While Zorzal Cacao's primary efforts are focused around land preservation and cacao production, they are also working on reforestation of the Dominican Republic. The reforestation efforts happen through the implementation of a carbon-offset program, Plan Vivo, in which local farmers are paid annually to set aside a portion of their land to grow native tree species. To fund this, chocolate makers who buy from Zorzal Cacao purchase $200 worth of carbon credits for each tonne of cocoa purchased. To date a total of 80 hectares (about 196 acres) of trees have been planted through this Plan Vivo program including some land within Reserva Zorzal itself.
We have been buying beans from Maya Mountain Cacao (MMC) since 2013 and while we have witnessed their growth and success, we have also witnessed the challenges they face. 2017 was a particularly challenging year for MMC as they faced competition from seven other buyers in an area that produces less than 150 tonnes of cacao per year on average.
MMC is a social enterprise established in order to connect small-scale cacao growers in Belize to the international specialty cacao market. Located in Toledo, the least-developed region of Belize, they were the first company in the country to buy wet beans from farmers and emphasize the importance of quality. With a centralized fermentary, MMC purchases from family farms in southern Belize, committing to a consistent price throughout the season. MMC is currently buying from 411 farmers and a majority of these farmers have been suppliers for more than two years.
Vicente Norero, the owner and general manager of Camino Verde Cacao, is one of the most innovative cacao producers we know. His products are always improving through his continual experimentation. We love the flavor of his beans so much that not only do we make two chocolate bars, an 85% and 100% (not to mention a limited edition 76% bar in 2017), we also use the chocolate as the base in nearly all of our drinks and many of our pastries at our shops in the US.
2016 was a year of significant change for Camino Verde. Until then, Camino Verde was a single estate which grew and fermented its own cacao and cultivated a variety of other crops near the town of Balao in southern Ecuador. Vicente had developed and refined fermentation techniques for his own beans over years of experimentation. Unfortunately, in 2016, the owner of the farmland decided to sell it so Vicente moved operations north to Duran (near Guayaquil), where he had previously built a chocolate factory. He now buys freshly harvested, unfermented beans from over 100 farmers and associations around Ecuador, searching out the beans that best represent the uniqueness of cacao in Ecuador.
GOLA RAINFOREST, SIERRA LEONE
Kristy Leissle, a longtime friend of ours who worked for Twin Trading, was starting to work in Sierra Leone and asked if we'd try a sample. Once we did, we wanted to know more. This cacao is produced in the buffer zones around the Gola Rainforest National Park, the largest area of rainforest in Sierra Leone. Five hours by very rough road from Freetown, the park was established in 2010 as a means of protecting bird species. It currently provides refuge to over 60 globally threatened species and is West Africa's first REDD+ project. As a REDD+ project, it aims to achieve reductions of Greenhouse Gases (GHG) through avoidance of deforestation and promotion of more sustainable development and land use planning.
The Gola Rainforest Cocoa Project (Gola Cocoa) started in 2015 to help groups impacted by the creation of the Gola Rainforest. It is supported by Comic Relief and Twin Trading (a non-profit and trading company focused upon farming groups growing coffee, cacao, and nuts in a number of origins). In Sierra Leone, Gola Rainforest Conservation and the Royal Society for the Protection of Birds (UK) collaborate on a range of projects (including Gola Cocoa) to provide livelihood support for 122 forest-edge communities (around 24,000 people). The associations of cocoa farmers located in the forest edge of Gola Rainforest National Park work in collaboration with Gola Cocoa to export their unique forest-friendly cocoa.
In 2008, several courageous women from the tiny northern coastal Venezuelan town of Mantuano traveled two and a half hours by bus to organize under a local cacao-farm-supporting NGO. They received government funding to cultivate cacao and build fermentation facilities on the land surrounding their village and founded the Asociación Cooperativa La Flor del Cacao Mantuano, a women-led farm co-op run by three-member families who oversaw small-scale fermenting, drying, bean purchasing, and quality control.
Patrick Pineda, founder of cocoa exporter Tisano, financed further development of the co-op's fermentation methods and equipment, and Tisano exported a first small lot of beans in 2010. With Tisano's support, the co-op continually improved processes, and their richly spice-noted beans caught the attention of craft chocolate makers worldwide. We purchased our first lot of the Asociación's flavorful beans in 2012, and loved them so much we bought them every year until 2016, when ongoing political unrest obliged Tisano to shift export operations away from Venezuela.
Prior to crop devastation by a cacao disease called witches' broom in the late '80's, Brazil produced a large portion of the world's cocoa. Over the last 30 years, the industry recovered as Brazilians developed a taste for craft chocolate, and a new specialty-cocoa market emerged. Juliana and Tuta Aquino are now among a number of Brazilian "tree-to-bar" producers who grow cacao, harvest and ferment beans, and make their own chocolate, all with an eye toward sustainability.
Tuta and Juliana are lifelong friends who grew up on nearby cacao farms in the Brazilian state of Bahia. After Tuta moved to New York City to attend college, he invited Juliana to join him. She accepted, and soon the two were married. Even while pursuing successful music careers in New York, Tuta and Juliana never forgot their roots: Nearly a decade ago, drawn by their love of cacao, they returned to Brazil. Back in Bahia, the original manager of Juliana's father's defunct cacao farm mentioned to Tuta and Juliana that he would love to work there again. The couple jumped at the chance to bring the 800-acre farm back to life and took it over in 2013, renaming the old property "Vale Potumuju."
Tuta and Juliana completely renovated Vale Potumuju, believing they could learn from their manager while implementing new farming practices and planting specialty varieties of cacao. The manager – now 75! – runs operations to this day. Tuta and Juliana provide their workers with housing, water, electricity, a monthly staple basket of food, and benefits. The farm even has a primary school where children from neighboring farms come to study. Juliana and Tuta hired Dan O'Doherty (who has worked with Costa Esmeraldas, Maya Mountain, Kokoa Kamili, Regal Plantations, and many others) to help them develop a world-class fermentation and drying protocol and facility.
The results of Tuta's and Juliana's dedication speak for themselves. To analyze the quality of their beans, Juliana began hand-crafting sample batches of chocolate, and gradually created Vale Potumuju's own tree-to-bar chocolate brand, Baianí. When Greg met Tuta at a cocoa panel in 2016, the Aquinos were working hard to produce excellent cocoa while slowly increasing output – and by 2019, they were able to produce enough cocoa not only to supply Baianí, but to sell a first small batch of flavorful beans to us.
Our sugar comes from Brazil's pioneering Native Green Cane Project, which became the world's first certified organic sugar plantation in 1997. We buy through Global Organics, a values-driven importer that shares our standards for high-quality ingredients and environmentally sound, sustainable practices. Spearheaded by Leontino Balbo, an agronomist whose family has been in the sugar business for over 100 years, the Project replaces destructive conventional farming practices with progressive, land-restoring methods. To reverse damage wrought by burn harvesting and monocropping -- which relies on artificial fertilizer and pesticides -- Balbo implemented his own experimental system called ERA (Ecosystem Revitalizing Agriculture). ERA improves crops while preserving biodiversity, soil health, and natural resources. Native is Fair-Trade certified, and they plant trees, support sustainable labor practices, and provide social programs for employees and community.