Chocolate-Covered
Hazelnuts
Sale price Price $15 Regular price
Chocolate-Covered Caramelized Hazelnuts
Feve
Created in collaboration with Feve Chocolates, our Chocolate-Covered Caramelized Hazelnuts pair the earthy aroma and buttery crunch of hazelnuts with our fudgy 70% Camino Verde, Ecuador chocolate to create a decadent confection worth savoring.
To craft these Chocolate-Covered Caramelized Hazelnuts, the chocolatiers at Feve dark-roast and caramelize small batches of hazelnuts which are then thickly coated with multiple layers of rich Dandelion chocolate using the old-world process of hand panning. Finally, each nut is coated with a light dusting of cocoa powder for a melt-on-the-tongue finish.
Ingredients & allergens

hazelnuts, Dandelion 70% Camino Verde, Ecuador chocolate (cocoa beans and organic cane sugar), sugar, salt, cocoa butter, cocoa powder

Contains: tree nuts (hazelnuts)

Weight

4 oz (113 g)

Learn more

Learn more about our cocoa beans and sugar – the region, the farms, and the producers.
Free shipping on orders over $25.
A Chocolate-Covered Tradition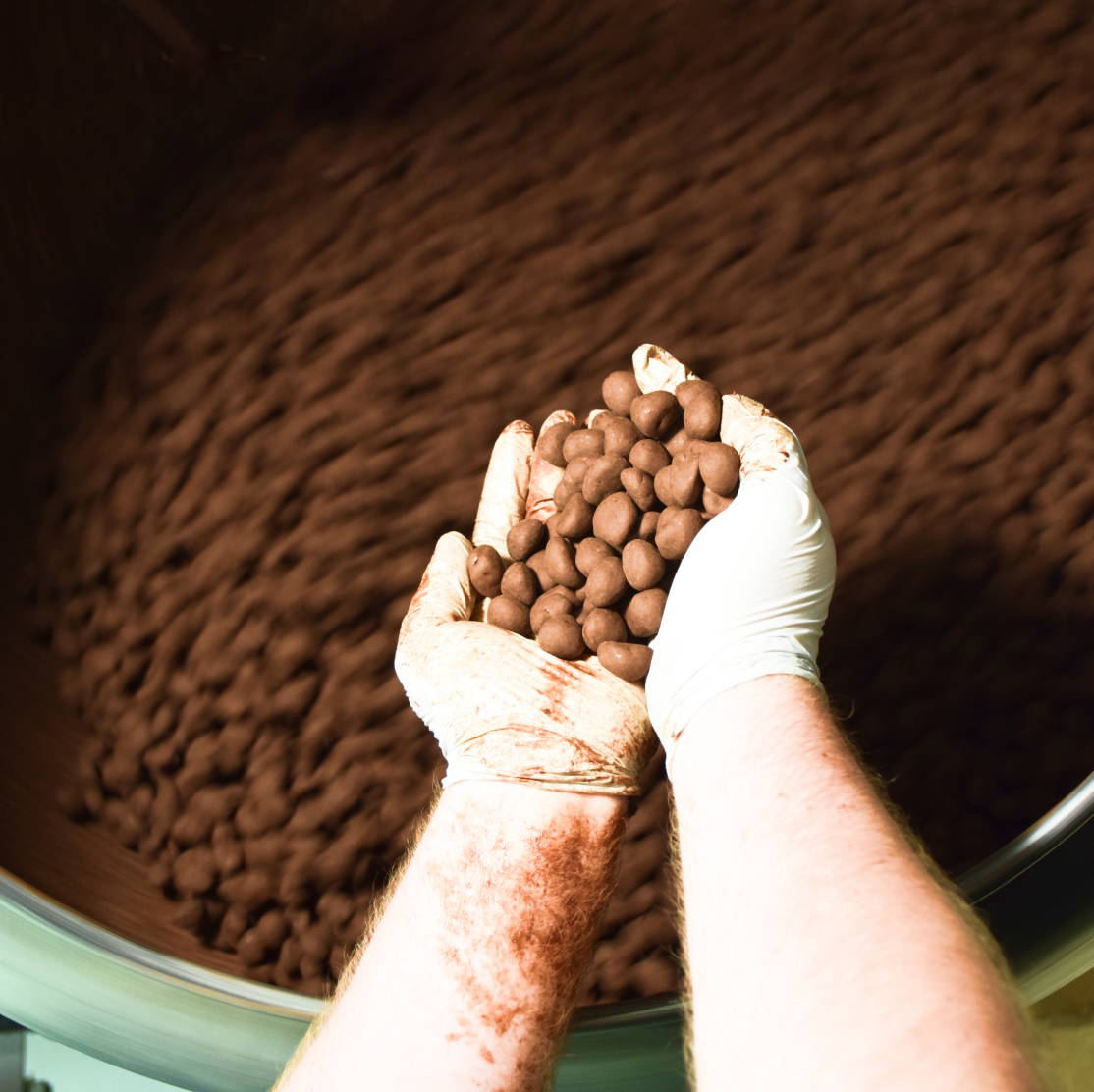 Feve Chocolates roasts and caramelizes small batches of freshly harvested hazelnuts to sweet-salty perfection, then coats them with more than 20 layers of our rich 70% Camino Verde, Ecuador chocolate using an old-world confectionery technique called hand panning.
Panning, one of the most traditional technical skills a chocolatier masters, is an artisanal method of covering nuts, cocoa nibs, or other small confection centers with chocolate. Tempered chocolate is slowly poured or ladled over a batch of centers as they tumble gently in a rotating cylindrical panning drum, or kettle. The drum's rotation speed, and the number of chocolate layers, are carefully controlled by the chocolatier. Friction created by the centers' tumbling action distributes chocolate evenly around every center; once a single chocolate layer solidifies, the next pour of melted chocolate is ladled over the centers. This process is painstakingly repeated until the desired chocolate-coating thickness is achieved.
Chocolate-covered nuts are one of our favorite confections for any season. They're excellent with wine, cheese, or fruit, or as a stand-alone snack. We like to pack a few with us everywhere we go — whether at school, the office, a road trip, or a gathering, chocolate-covered roasted nuts are a perfect treat to savor, and to share.
ABOUT OUR COLLABORATOR
Dandelion + Feve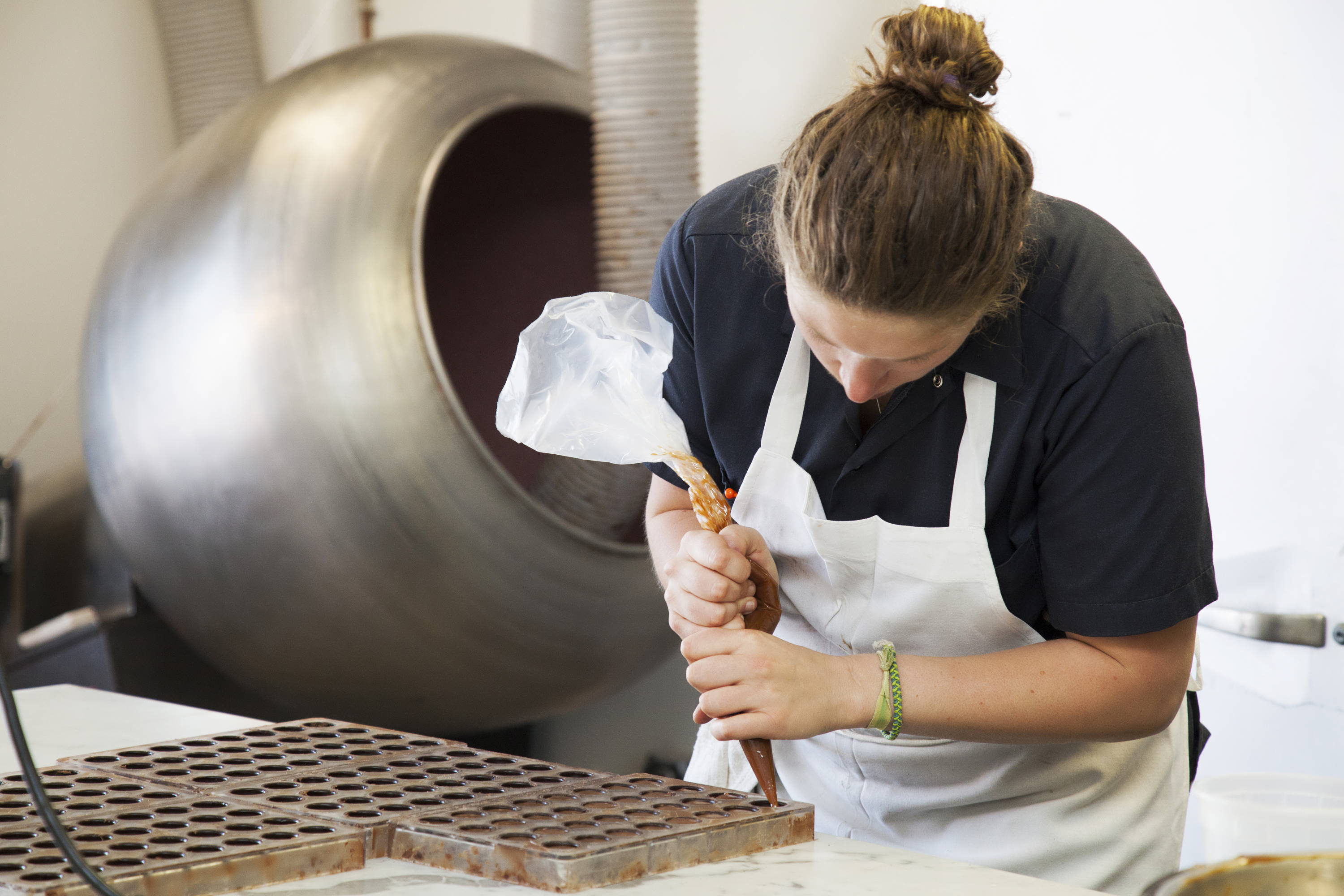 San Francisco-based Feve Chocolates has been a friend and collaborator of ours since 2012, back when we opened our first factory on Valencia Street. Since then, we've taste-tested recipes, traded equipment tips, and partnered together to create a range of chocolate-covered confections, from buttery caramels to roasty nuts and nibs. Their name borrowed from the French word for "bean," Feve are chocolatiers — artisans who use prepared chocolate to create confections, bonbons, and treats.
With a shared commitment to ethical sourcing and top-quality ingredients, Feve works with us to transform our single-origin chocolate into exquisite, boldly flavored confections that highlight some of chocolate's most enticing flavor combinations.