An Exquisite Flavor Pairing
Chocolate-Dipped Fig Truffles
Inspired by an Ecuadorian confection called Dulce de Higos ('Sweet Figs') — a traditional dessert of preserved figs simmered in spices, candied, then served with soft local cheese such as queso fresco — Ashley chose tender, locally sourced black Mission figs as the foundation for a Dandelion version of the Ecuadorian delicacy. Each plump fig is hand-stuffed with creamy, spice-infused chocolate ganache, then hand-dipped in a generous layer of our 70% Camino Verde, Ecuador chocolate, and garnished with edible gold leaf. These California-grown Spanish figs, with their dark purplish skin and luscious honey flavor, are a variety similar to the Spanish figs enjoyed in Ecuador.
Ingredients & Allergens

Ingredients: dried black Mission figs (potassium sorbate), Dandelion 70% chocolate (cocoa beans from Camino Verde, Ecuador, organic cane sugar), heavy cream, cocoa butter, sugar, glucose, cinnamon, nutmeg, cardamom, salt, star anise, cloves, edible 24k gold

Contains: milk

Crafted in a facility that also processes wheat, soy, peanuts, tree nuts (hazelnuts, coconuts, pistachios, walnuts, pecans, almonds) and sesame.

Weight

9.7 oz / 274 g (8 Figs)

Learn More

Learn more about our cocoa beans and sugar — the region, the farms, and the producers.
Chocolate-Dipped Fig Truffles
chocolate-covered black Mission figs with spiced ganache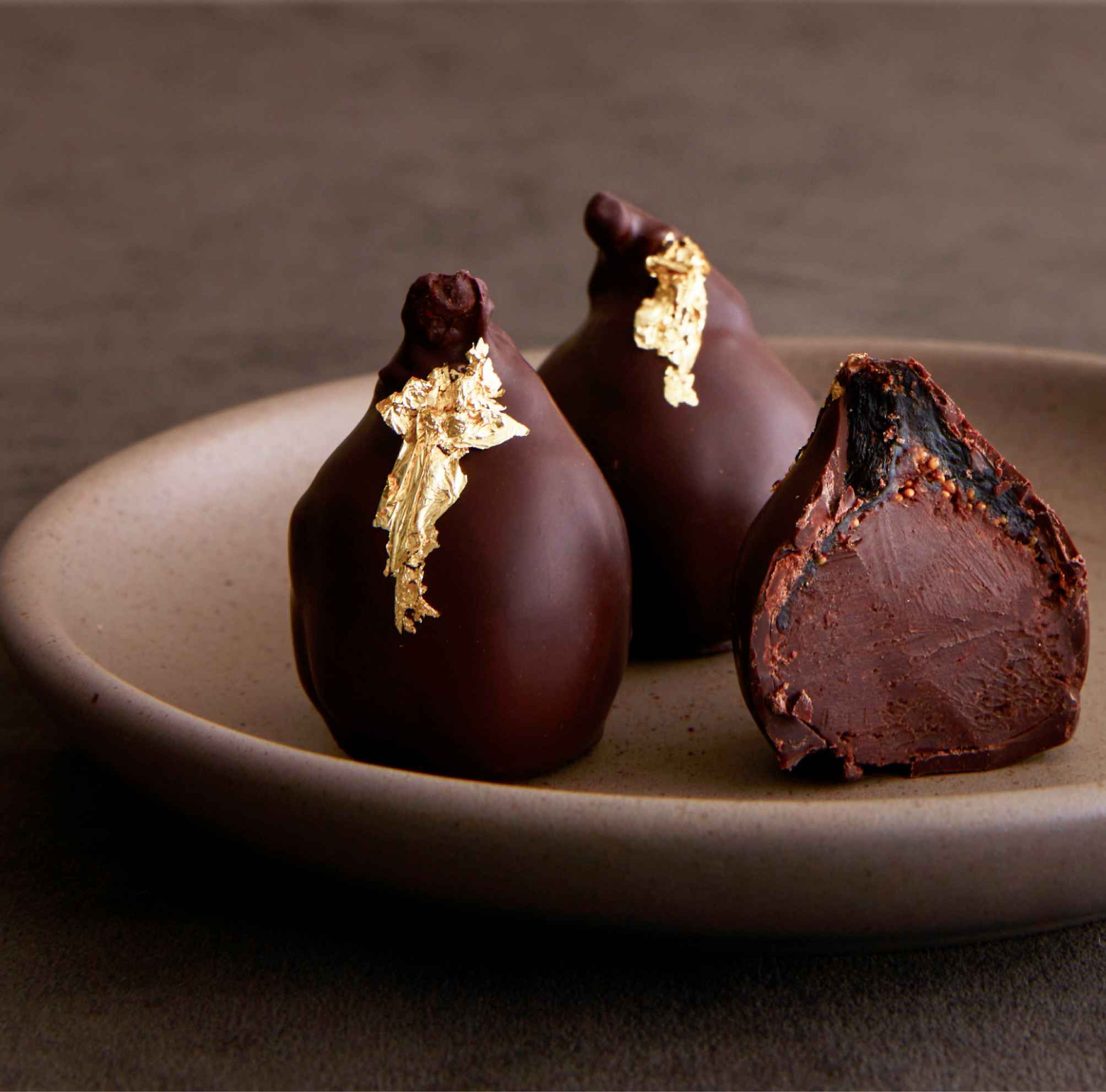 A Triumph of Flavor & Craft
---
Rich local cream is infused with organic, flavorful, single-origin spices, and is then gently hand-stirred into melted Camino Verde, Ecuador chocolate to form silky ganache. When the ganache is firm enough to scoop, it is gently stuffed by hand into the center of each juicy, dark-purple black Mission fig, and the whole fig is hand-dipped in more hand-tempered Camino Verde, Ecuador chocolate. Delicate gold leaf hand-placed near each stem provides a gleaming finishing touch.
A Quintessential Delicacy
Each fig is pretty as a still-life painting, and even more delicious. Bring delight with these jewel-like additions to any menu: Serve Fig Truffles on a cheeseboard with European or Californian cheeses and local fruits, pair with port or another sweet wine, or enjoy as a delicate after-dinner dessert. Our Chocolate-Dipped Fig Truffles are an exquisite Californian take on an Ecuadorian classic.